Vancouver's Premiere
Burlesque School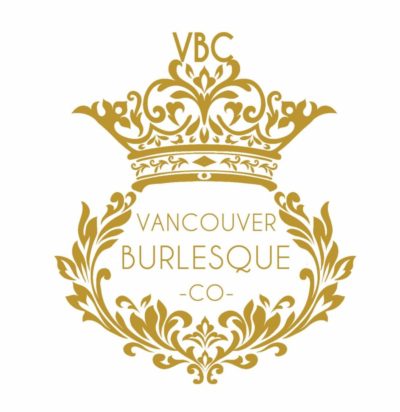 Vancouver Burlesque Co.
We are a warm, sparkly souled, inclusive place to dance, move, explore and be empowered. We thrive on creating space for you to get in touch with your inner sparkly diva, brush up or enhance your performance skills and have a place to indulge your body in sexy fitness.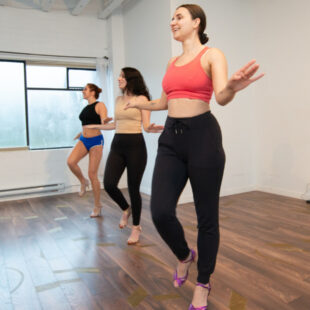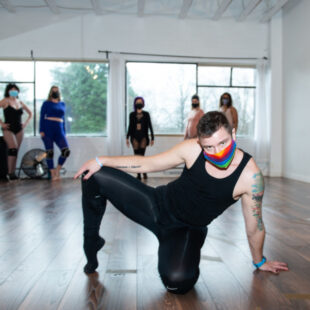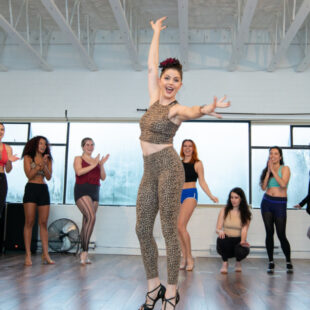 VBC Presents: A Student Showcase
The Vancouver Burlesque Co. welcomes you to the finale show of their
Fall 2023 season. 
Join us as we celebrate our students in all their magic and glory. Prepare yourself for amazing large group acts, stunning soloists and definitely a few surprises…. 
Date: Saturday, Dec 2
Doors: 8pm
Show: 9pm
Cost: $25 advance, $30 at the door 
Hosted by: Miss Kiss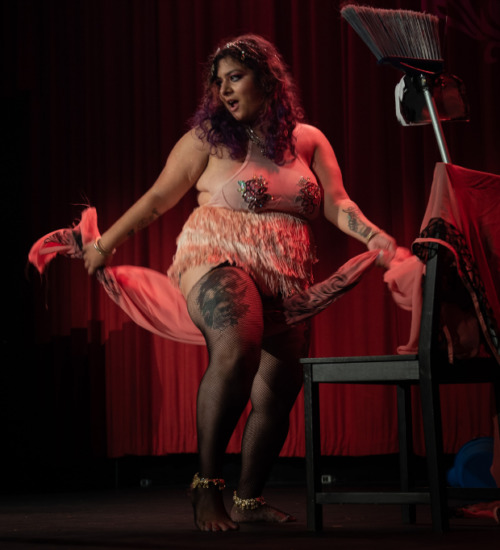 Private Classes & Coaching
The VBC offers private sessions for those looking for a one-on-one experience with top-notch instruction.
At the VBC I found an incredibly supportive community. I signed up for an intro class on a whim a few years ago. I was terrified. who did I think I was? No dance training, a touch older and completely out of my element. I have been a behind the scenes person for the last 20 years (work, kids, life) I cried (after class on the way home) because I was scared. Who would want to see me this way? Through more classes, supportive dancers all with their own journey and teachers that have helped me when I needed it.
So maybe it's just a class you want to try. Maybe you are just curious. Maybe you will stay for one session, maybe you will stay for years. But all are welcome.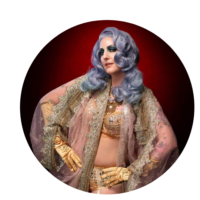 As a fat, middle-aged novice dancer with mobility challenges, I was reluctant to take burlesque classes and hesitated for quite a while; but it was something I had always wanted to do so I signed up this year. The instructors at VBC were welcoming and accommodating every step of the way. 
Not only do they share their superstar talent and passion for burlesque, but they do so while creating a positive, supportive and safe community of dancers. Attending classes with VBC has been a highlight for me.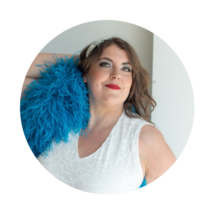 I underestimated how much my life was going to change when I signed up with the VBC.
The support and inspiration that you will receive from the sexy humans who run the place and the sexy humans who attend are immeasurable. You'll find yourself in an empowering community of sensuality and hotness. My first show on stage was a dopamine I've never tasted, it's liberating.
Ariel, Cherry & Portia are all welcoming, sweet, patient humans. I'm beyond grateful to be learning from such talent and grace. Love love love this space!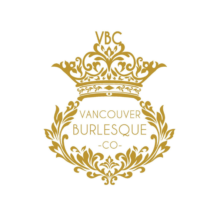 I discovered the Vancouver Burlesque Co at their 1-year anniversary show at their studio and instantly fell in love with them. The instructors are all so welcoming and inclusive. I don't have a dance background but I always wanted to dance and they made me feel comfortable and never judged my skill level.
Performing on stage is an incredible adrenaline rush and all of the instructors are so encouraging! They're the best dance moms ever. I highly recommend them to everyone I know and I always emphasize that it doesn't matter if you've never danced before. It's such a great space to get out of your head and move your body. Love the VBC and everyone there!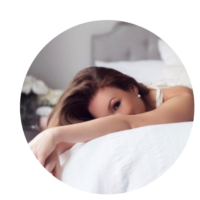 My burlesque journey wouldn't have been possible without the encouragement, training, and support from Vancouver Burlesque Co. 
From training and technical classes to building a community, I found it all with the VBC. They have been instrumental in not only getting me back on stage after a long hiatus, but also gave me a safe, inclusive place to rebuild my self-esteem, techniques to combat shame & fear, important education on the history of burlesque, and a further appreciation for SW and why we do what we do. Personal work is not easy, but empowering and life-changing. I no longer feel shame for my past, present or glorious future!
*If you've been going to shows for a while and are curious about that stage life, or perhaps you're looking for a way to unleash your creative beast. Are you looking for a community that "just gets me"? VBC is a great place to start your journey!